Do you want to draft Whit Merrifield for the stolen bases?
Whit Merrifield has been a good fantasy baseball asset the last couple of years. He has put up decent power with a boost in the stolen bases category. Every fantasy player knows it is important to have players who run when they get the opportunity. But what do we think will happen to Merrifield's numbers in the stolen bases category in 2020? We have examined his major league career, and maybe we can give you an answer.
Whit Merrifield is still very relevant in fantasy baseball, and many drafts him because of the nice boost in stolen bases. He is now 30 years old and will turn 31 before next season starts. However, if you look at the stats you get a little worried when he had 45 SB in 2018 and only 20 in 2019. When we compare the success rate (SB/(SB+CS)) the difference between 2018, 82 % and 2019, 67 %, we see a troublesome trend.
We have also looked into if Merrifield run less even if he had the opportunity. SBO is stolen base opportunity (when the runner was on first or second base when the next base was open). In the graph below we see he really didn't run as much as he did before. The reason fort that can be different, but the trend for 2020 is not looking good. In other words, you should not expect a new 45 SB season, but closer to 20 SB is more realistic. With the decline in SB be careful not to draft Merrifield too high in the upcoming drafts.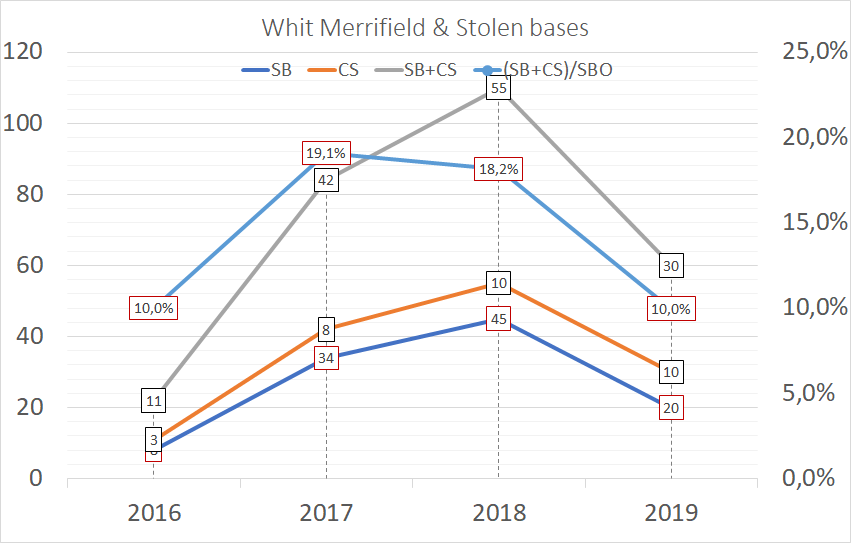 His OPS has remained fairly consistent throughout his MLB career (2016: .716, 2017: .895, 2018: .806, 2019: .811). When we look at Hard% it also is consistent (2016: 35.7%, 2017: 30.6%, 2018: 36.9%, 2019: 38.4%). The power production should remain the same and it is the stolen bases production we should worry about.
One advantage Merrifield has is he has both 2B and OF eligibility, which can be really difficult when you manage your team.