New York Mets Jacob deGrom both effective and a fantasy superstar
In fantasy baseball we want starting pitchers who do not allow runs and get a lot of strikeouts. We also want them to pitch as many innings as possible and pick up a win every now and then. To determine which starting pitchers who have been effective but still put up strikeouts we looked at pitches per inning and strikeout percentage.
On May 3 we looked at pitchers who at least pitched 30 innings and looked at how many pitches per inning they needed, and also compared K%. The assumption is if you you get many strikeouts you also use a lot of pitches to get outs. The results show how great New York Mets Jacob deGrom has been so far in the 2021 season. He leads all qualified starting pitchers with 13.5 pitches per inning, but he also leads all with a K% of 48%. The combination to lead both categories is truly amazing and only shows how good deGrom really is. Of course, it is a small sample size and in the long run it might be tough to keep up these numbers.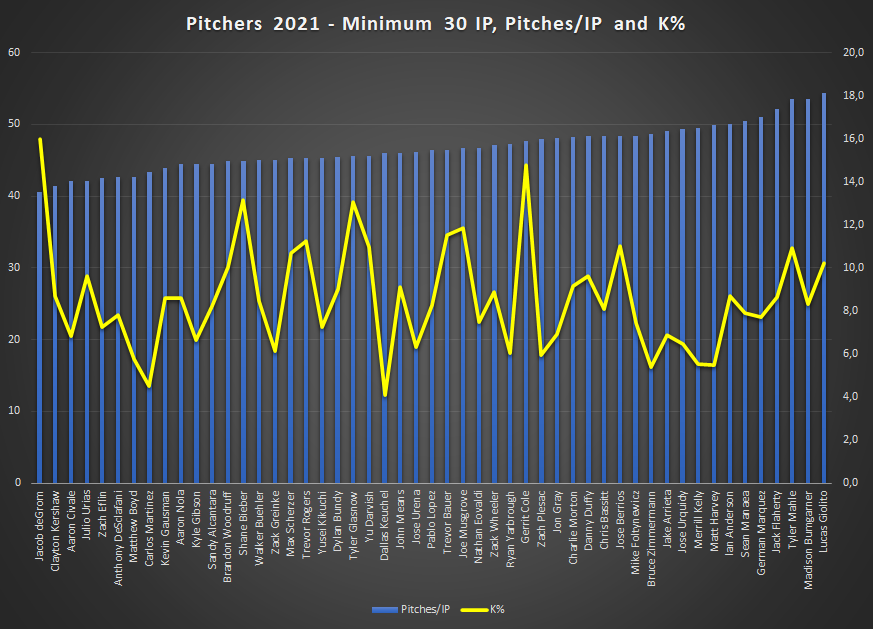 Chicago White Sox Lucas Giolito was drafted as an ace but has struggled to start the season. He is last with 18.1 pitches per inning. He will probably bounce back, but it shows he has a tough time to get through the innings. In the top 3 we find Los Angeles Dodgers Clayton Kershaw 13.8 P/IP (2nd) nd Cleveland Indians Aaron Civale 14 (3rd).
The top 3 in K% is Jacob deGrom (48), New York Yankees Gerrit Cole (44.3) and Cleveland Indians Shane Bieber (39.5).
| | | | |
| --- | --- | --- | --- |
| | SP | Pitches/IP | K% |
| 1 | Jacob deGrom | 13,5 | 48 |
| 2 | Clayton Kershaw | 13,8 | 26 |
| 3 | Aaron Civale | 14,0 | 20,5 |
| 4 | Julio Urias | 14,0 | 28,8 |
| 5 | Zach Eflin | 14,2 | 21,7 |
| 6 | Anthony DeSclafani | 14,2 | 23,4 |
| 7 | Matthew Boyd | 14,2 | 17,3 |
| 8 | Carlos Martinez | 14,4 | 13,5 |
| 9 | Kevin Gausman | 14,6 | 25,8 |
| 10 | Aaron Nola | 14,8 | 25,8 |
| 11 | Kyle Gibson | 14,8 | 20 |
| 12 | Sandy Alcantara | 14,8 | 24,7 |
| 13 | Brandon Woodruff | 15,0 | 30,1 |
| 14 | Shane Bieber | 15,0 | 39,5 |
| 15 | Walker Buehler | 15,0 | 25,4 |
| 16 | Zack Greinke | 15,0 | 18,4 |
| 17 | Max Scherzer | 15,1 | 32 |
| 18 | Trevor Rogers | 15,1 | 33,8 |
| 19 | Yusei Kikuchi | 15,1 | 21,8 |
| 20 | Dylan Bundy | 15,2 | 27 |
| 21 | Tyler Glasnow | 15,2 | 39,2 |
| 22 | Yu Darvish | 15,2 | 32,9 |
| 23 | Dallas Keuchel | 15,3 | 12,2 |
| 24 | John Means | 15,4 | 27,3 |
| 25 | Jose Urena | 15,4 | 18,9 |
| 26 | Pablo Lopez | 15,5 | 24,8 |
| 27 | Trevor Bauer | 15,5 | 34,5 |
| 28 | Joe Musgrove | 15,6 | 35,6 |
| 29 | Nathan Eovaldi | 15,6 | 22,4 |
| 30 | Zack Wheeler | 15,7 | 26,6 |
| 31 | Ryan Yarbrough | 15,8 | 18,1 |
| 32 | Gerrit Cole | 15,9 | 44,3 |
| 33 | Zach Plesac | 16,0 | 17,9 |
| 34 | Jon Gray | 16,0 | 20,8 |
| 35 | Charlie Morton | 16,1 | 27,5 |
| 36 | Danny Duffy | 16,1 | 28,8 |
| 37 | Chris Bassitt | 16,1 | 24,2 |
| 38 | Jose Berrios | 16,1 | 33,1 |
| 39 | Mike Foltynewicz | 16,1 | 22,3 |
| 40 | Bruce Zimmermann | 16,2 | 16,2 |
| 41 | Jake Arrieta | 16,4 | 20,7 |
| 42 | Jose Urquidy | 16,4 | 19,4 |
| 43 | Merrill Kelly | 16,5 | 16,6 |
| 44 | Matt Harvey | 16,6 | 16,4 |
| 45 | Ian Anderson | 16,7 | 26,1 |
| 46 | Sean Manaea | 16,8 | 23,7 |
| 47 | German Marquez | 17,0 | 23,1 |
| 48 | Jack Flaherty | 17,4 | 25,9 |
| 49 | Tyler Mahle | 17,8 | 32,8 |
| 50 | Madison Bumgarner | 17,8 | 25 |
| 51 | Lucas Giolito | 18,1 | 30,6 |