We need San Diego Padres Fernando Tatis Jr to run more
Much of San Diego Padres 21-year old shortstop Fernando Tatis Jr's fantasy value is tied to the power and speed combination. He is almost always drafted in the first two round and we should expect similar production. To find stolen bases are tough, but Tatis Jr has 20 SB potential in a full season.
Fernando Tatis Jr made his MLB debut in 2019 and instantly became a fantasy favorite. A big a strong rookie who plays at shortstop for a rebuilding team which will be very competitive really soon. He has the important power and speed combination, which is always something you should try to add. In his first season he had some injury problems but still managed 84 games, with 22 HR, OPS .969 and 16 SB. If you look at the numbers his splits show he ran a lot less later in the season.
SB per month
March 1
April 5
June 6
July 2
August 2
His SB success rate also fell later in the season, which is something we have to keep an eye on for this season. Of course, the sample size is too small to make any major conclusions but nonetheless you should always stay ahead.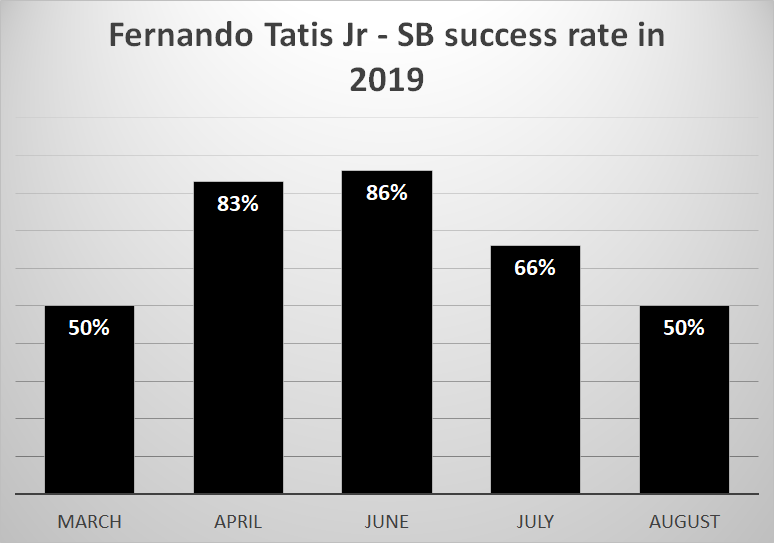 In his first 4 games in 2020 Tatis Jr has 1 SB and he hasn't been CS. Way too small sample size again, but the entire 2020 season will be really short. Never before fantasy owners will have to make decisions based on past success and patterns. The most logical reason his drop off in 2019 in SB is due to injuries, but it would be encouraging to see if he can run a little more in 2020. This is particularly important if you have Tatis Jr shares in dynasty league.